"Must Have" Stocking Stuffers 
Stocking stuffers are my favorite way to give gifts to our boys! I know I have many fond memories growing up as a child of Christmas morning and running to see what was in my stocking. Finding just the right stocking stuffers for teens can be a challenge!
One of my favorite Christmas memories was receiving a printout of the safety features of a car in my stocking.  I asked my parents if it was there by accident because it was a car that we didn't have at the time.  Turns out that they had gotten this car for me to take back to college.  I was sooooo excited.  Mind you it was the ugliest car ever, but it was all mine, and I couldn't have been happier.
Needless to say, that was my favorite stocking stuffer ever, especially since the key was in the toe of my stocking. (Sometime I will have to write a post on the ugly cars that my parents got for my sisters and I to drive.)
Pin for later!
There are so many creative ways to give gifts in a smaller way. Our boys love to open their stockings first every Christmas morning. Santa props them up next to the fireplace since a couple of times they have pulled the hooks off of the mantle from their weight.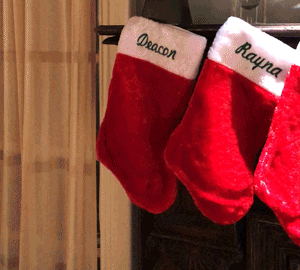 I have put together a gift guide for stocking stuffers for your teens. I asked my teens and their friends for these ideas, so here you go!  *This post may contain affiliate links. This means, at no additional cost to you, I will earn a small commission if you click the link and make a purchase.
Sneaker balls -These are great for deodorizing stinky shoes in their gym bag or locker. My boys actually get embarrassed when their shoes stink. If your teen doesn't notice the smell, then this is really a present for you!
Anker Power Core    –One of the most powerful 'mini' chargers on the market. It will add over one charge (6 hours talk time) to an iPhone 6, almost one charge to a Galaxy S6 or around one charge to most other phones. These are great to throw in a backpack or purse.
3-in-1 Charger Stand  –

Works for iPhone, earbuds, and Iwatch all at once. Super convenient, and it really doesn't take up much room at all!

Swedish Fish    –

'Nuff said.  Really any candy works!

Duct Tape   –

The uses for duck tape are endless, both for crafts and fixing things. My boys have many rolls of tape, and they have used it for so many things!

Sun Bum Chapstick  –

Always a good choice! Contains soothing cocoa butter. 

Gluten Free/100% Vegan.  

Petrochemical-free.

Crazy Socks   –

Moisture wicking, ventilation, smell free, soft touch and durability. Perfect gifts for a stocking!  Fits socks size 8-14; men shoes size 8-13 / women shoes size 7-13.  

80% Cotton, 15% Nylon, 5% Spandex, soft and comfortable.

Fitbit Alta  –

Track your activity levels, sleep patterns, and more with the black Fitbit Alta Activity Tracker in size small. This sleek band uses an array of sensors to keep track of how many steps you take, how far you walk, how many floors you climb, the number of calories you burn, and the time you spend active.  

Alta is sweat, rain, splash proof.

Wireless Bluetooth Earbuds

  –

Crystal clear stereo sound.  The in-ear headset built in bluetooth V4.1 technology, and microphone give a real stereo music sound and stable calling. Sweat-proof and waterproof.  Up to 8 hours playing time. (My son got these for his birthday and loves them for the gym!)

A Dogs Purpose  –

Everyone love a great dog movie. But, seriously, any movie is a great idea for a stocking. My boys always like a couple of movies for their stockings.

Noise cancelling headphones   –Active Noise Cancelling technology. Significant noise reduction for travel, work and anywhere in between. Advanced active noise reduction technology quells airplane cabin noise, city traffic or a busy office, makes you focus on what you want to hear, enjoy your music, movies and videos. The noise cancellation function works well both in wire and wireless mode. https://www.reviews.com/noise-canceling-headphones/   (A great article on research about these type of headphones.)
Selfie ring light -If they are going to do selfies, they may as well be the best possible.  This clips on for easy use and is rechargeable.
Don't forget that cash and gift cards are also great small gifts that are great stocking stuffers for teens!
A couple of great holiday party ideas for teens are in this post.  One for guys and one for girls. And, here are some easy DIY ideas for holiday crafting and gifting.
Also, check out our other holiday posts:  49 Holiday Movies to Watch with Your Teen, Budget Friendly Ideas for the Holidays, Gift Guide for Your Teen Girl,  and Gift Guide for Your Teen Guy.
Pin for later!